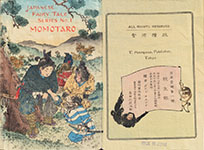 チリメン本のことなど
昨年末、スイスのちりめん本コレクターのMüller-Mosbergerのコレクション、520点(約576冊)が5500万円で売りに出された。これまで、えちご弘文堂の奥村さんや幕末屋のアレックス・バーンから聞かされていた女性。どこかの大学なり研究機関で一括に買い取ってもらいたいものだが、2021年2月現在、買われた様子はない。そもそも、昨夏、彼女のコレクションのカタログが発売され、注文して待つこと3か月。分厚い3冊のカタログには、「桃太郎」などエディション違いのものが延々と続く。
At the end of last year, 520 pieces (about 576 books) of the collection of Swiss crepe paper books collector Müller-Mosberger were put up for sale for 55 million yen. Until now, a woman who had been told by Mr. Okumura of Echigo Kobundo and Alex Burn of the Bakumatsuya store. I would like some university or research institution to buy it all at once, but as of February 2021, it does not seem to have been bought. In the first place, the catalog of her collection was released last summer, and it's been 3 months to order and wait. The three thick catalogs are endlessly lined with different editions such as "Momotaro".
2013年の9月にも、この会報に「チリメン本のお話」として書いているが、大まかなことを言うと、長谷川武次郎という人が、明治18年から日本昔話をまず英文で出版、木版画、浮世絵に英語を配し、和紙をちりめん加工したもの。その後、フランス語、スペイン語、ドイツ語、スエーデン語、デンマーク語、ポルトガル、ロシア語、オランダ語などでも。訳者には、B.H.チェンバレンとか、ヘボンやL.ハーンなどの大物がいる。絵も美しいし、なんといってもちりめん加工されたしんなりとした手触りは絶品である。以前、塩尻の図書館で展示したとき、手触りを実感してもらいたくて、状態のあまり良くない本を見本として一冊触ってもらえるようにしたものだった。平成14年に、荒俣宏が「水木しげる作品集」をちりめん本で作成しているが、紙質が違い、手触りが今一つ物足りない。
In September 2013, I wrote in this newsletter as "The Story of a Cirimen Book", but roughly speaking, a person named Takejiro Hasegawa first published Japanese old stories in English from 1887, and woodblock prints, Ukiyo-e with English and Japanese paper that have crepe processed. Then in French, Spanish, German, Swedish, Danish, Portugal, Russian, Dutch and more. Translators include B.H. Chamberlain and big names such as James Curtis Hepburn and L. Hahn. The picture is beautiful, and the crepe-processed soft texture is exquisite. Previously, when I exhibited it at the library in Shiojiri, I wanted people to feel it, so I asked them to touch a book that was not in good condition. In 2002, Hiroshi Aramata created "Shigeru Mizuki's Works" in a crepe book, but the paper quality is different and the texture is not enough.
まとまった研究書は、アメリカのシャーフという人がPeabody Essex Museumから「Takejiro Hasegawa  Meiji Japan's Preeminent Publisher of Wood-Block-Illustrated Crepe-Paper Books」を1994年に出版。この博物館は大森の貝塚を発見したモースがかつて館長をしていた。長谷川の履歴や彼の友人だった翻訳者などに詳しい。日本では梅花女子大の石澤小枝子の「ちりめん本のすべて」が出ていて、各本の内容その他に詳しく、イギリスの外交官、ミッドフォードやら巌谷小波を教えてもらったが、梅花女子大のコレクションが170冊ばかりで、とても「すべて」ではない。何代か前の英国駐日大使、H.Cortazziがみずからもちりめん本を集めて書いた「Images of Japan 1885-1912: Scenes,Tales and Flowers」を出版、いかにもコレクターの楽しみにあふれた内容だが、書誌学的には成果は乏しい。ホームページを持っているアメリカの古書店(?)、Baxleyのページが書誌学的には、現在最も詳しい。Müllerコレクションにも、このBaxleyの画像が使われている。http://www.baxleystamps.com/litho/hasegawa.shtml
In 1994, a person named Frederic A. Shaf in the United States published "Takejiro Hasegawa Meiji Japan's Preeminent Publisher of Wood-Block-Illustrated Crepe-Paper Books" from the Peabody Essex Museum. Morse, who discovered the Omori Shell Mound, was once the director of this museum. He is familiar with Hasegawa's history and his friend, a translator. In Japan, Saeko Ishizawa of Umehana Women's University published "All about Chirimen Books", and I was taught by British diplomats Midford and Iwaya Sazanami about the contents of each book and other details, but the collection of Baika Women's University is 170. It's just a book, not very "everything". H. Cortazzi, the British Ambassador to Japan several generations ago, published "Images of Japan 1885-1912: Scenes, Tales and Flowers", which he wrote by collecting his own crepe books. It is a bibliography that is full of fun for collectors. Scientifically, the results are poor. The page of Baxley, an American second-hand bookstore (?) That has a homepage, is currently the most detailed bibliographically. This Baxley image is also used in the Müller collection. http://www.baxleystamps.com/litho/hasegawa.shtml
私のちりめん本コレクションも徐々に増えて、関係書を含めると500冊くらいになったろうか。西洋の本と違い、和本なので積んでおく必要がある。古い付き合いの四賀の木工家の友人(女房の三味線ダンス、仕掛け付きの小ダンス、フルートや万年筆のケースを作ってもらった)に高さ60センチほどの棚に20ほどの桐の引き出しを付け、制電アクリルの透明板で蓋するようにした。2個作ってもらったところで、彼も音を上げた、作っても作っても引き出しが多くて「もういやだ」。その後、コレクションが増えて、今では彼の作った棚も5個になったが、すでに満杯である。
My crepe paper books collection has gradually increased to about 500 books including related books. Unlike Western books, it is a Japanese book, so it is necessary to stack it. A friend of an old friend of the Shiga woodworker (who made a shamisen dance with a gimmick, a flute and a fountain pen case) put about 20 paulownia drawers on a shelf about 60 cm high. I tried to cover it with a transparent plate of antistatic acrylic. When I asked him to make two, he also made a noise, and even if he made it, there were many drawers, "I don't like it anymore." Since then, the collection has grown to five shelves he made, but it's already full.
このちりめん本の最初期の画師は,鮮斎小林永濯で「明治版画史」(吉川弘文堂)によると、明治18年の「東京流行細見」の中で、浮世絵系画工の8人中、かの月岡芳年に次いで2番目にランクされている。絢爛たる芳年や天才河鍋暁斎と違い、ケレンミや派手さはないが、まじめな秀才型画師である。これも集めてみた、染崎延房の「近世紀聞」36巻に挿絵を描いており、明治7年から14年に出版されている。前から数冊は持っていたが、昨年末、ヤフオクで見つけて全冊を入手、2か月かかって読了した(なにせ半隠居のこととて暇)。字面が読みにくくて慣れが必要だが、ペリーの来航から西南戦争まで、細かいことが書かれていて面白い。その他、この画家のものとして、「耶蘇一代弁妄記」(レプラを直したなんて、医学を知らないにもほどがあるとかキリストを罵倒していて笑う)、まじめな彼の画風を生かして「古今百景 吾妻余波」、「温故年中行事」2巻、「江戸年中行事図絵」(解説に日本語とフランス語がついている)、その他、「万物雛形画譜」や「明治太平記」(大久保利通が台湾出兵の交渉した時の事など)。子供の情景、庶民の行事、果ては乞食の種類まで。これらの中から、ちりめん本と同じ図柄を見つけ出せて興味深い。永濯が死んで、鈴木華邨という画師が長谷川のお気に入りとなったようで、少なくともちりめん本には16冊、彼の署名がある。阪急電鉄の創始者、小林一三は鈴木華邨を愛でて彼の逸翁美術館では、この秋に華邨展を開催する由、無論,本画であろうが、こういった本道でない業績にも光を当ててもらいたいもの。その他、新井芳宗といううまい画師もいたが、彼にまではまだ手が回らない。
According to "Meiji Print History" (Yoshikawa Kobundo), the earliest painter of this crepe paper book was Kobayashi Eitaku, who was one of the eight ukiyo-e painters in "Tokyo Fashionable detailed guide" in 1887. It is ranked second after Yoshitoshi Tsukioka. Unlike the gorgeous Yoshitoshi and the genius Kawanabe Kyosai, he is a serious and talented painter, although he is not kerenmi or flashy. This is also an illustration drawn in Volume 36 of Nobufusa Somezaki's "Near Century Story", which was published in 1897-14. I had several books from before, but at the end of last year, I found them at Yahoo Auction, got all the books, and took two months to read them (after all, I had some free time to retire). The text is difficult to read and it takes some getting used to, but it is interesting because the details are written from Perry's arrival to the Satsuma Rebellion. In addition, as this painter's thing, "Yaso Ichidai Benboki" (I laughed at the fact that he didn't know medicine or cursed Christ to fix Lepra), making use of his serious style of painting, " "Hundred Views of Ancient and Modern Azuma Aftermath", "Won's Old Yearly Event" Volume 2, "Edo Annual Event Illustration" (Japanese and French are included in the commentary), "All Things Model Picture Book" and "Meiji Taiheiki" ( When Toshimichi Okubo negotiated to send troops to Taiwan, etc.). From the scenes of children, the events of the common people, to the types of beggars. It is interesting to find the same pattern as the crepe book from these. It seems that Eitaku died and a painter named Suzuki Kason became Hasegawa's favorite, at least 16 crepe books with his signature. Ichizo Kobayashi, the founder of Hankyu Railway, loves Suzuki Kason, and at his Itsuo Museum, he will hold a Kason exhibition this fall, of course, even if it is a real picture, but also for such non-main road achievements. What I want you to shed light on. In addition, there was a good painter named Yoshimune Arai, but he hasn't been able to handle it yet.
別に頼まれたわけではないが、これだけの出版文化事業の全体像が分からないのも可哀そうではではないか。物語についてはMüllerコレクションがくわしいので、カレンダーに力を入れて集めている。100年も前のカレンダーが残されていること自体、奇跡のようなもので、なかなか市場に現れない。本仕立てのものが多いが、中には立体的な、貝や巾着型のモノ(手触りが素晴らしい)や、簾仕立ての五重塔や滝など、楽しんで作っている様子がうかがわれる。そもそも、日本国内のちりめん本コレクションは、放送大学338点、聖徳大学300点、京都外語大205点、国際日本文化研究センター200点、東洋大199点、東女大比較文化研究所180点、国会図書館171点、梅花女子大167点、国際交流基金116点、関西大学103点、国際子ども図書館67点、白百合女子大63点などとなっており、福生郷土資料室や習字教育財団、観峰館からはそのコレクションのパンフレットが出版されているが、いずれも啓蒙的ですべてを網羅するには程遠い。
I wasn't asked separately, but I think it's a pity that I don't understand the whole picture of this publishing culture business. As for the story, the Müller collection is detailed, so I focus on the calendar. The fact that the calendar 100 years ago is left is like a miracle, and it is hard to appear on the market. Most of them are made in this style, but some of them are three-dimensional, such as shells and drawstring-shaped objects (which have a wonderful feel), and bamboo blind-style five-storied pagoda and waterfalls. In the first place, the Chirimen book collection in Japan is 338 points from Broadcasting University, 300 points from Seitoku University, 205 points from Kyoto Foreign Language University, 200 points from International Center for Japanese Culture, 199 points from Tokyo Woman's Christian University, 180 points from Tokyo Woman's Christian University Comparative Culture Research Institute, National Assembly. The library has 171 points, Umehana Women's University 167 points, International Exchange Fund 116 points, Kansai University 103 points, International Children's Library 67 points, Shirayuri Women's University 63 points, etc. From the Fukusei Folk Museum, the Writing Education Foundation, and Kanminekan. Collection brochures have been published, but they are all enlightening and far from exhaustive.
私のカレンダーコレクションは220点を超えた。カレンダーは本のカテゴリーからは外れるので、国会図書館には3点しかなく、最も多い放送大学で89点にとどまる。問題は、例えば1911年だけで13種類もあり(もっとあるかもしれない、誰もわからない)、1911年のカレンダーというだけでは区別がつかないこと。そこで、元エプソンの技術者の友人(古いフルートを非接触型スキャナーで撮影してもらって以来、なんでもできる奴)に頼んで、全画像をアーカイブしてもらい、表紙のサムネイル付きのカタログを作ってもらった。世話になった神田の崇文荘の阿部さんや幕末屋のアレックスに送って喜ばれた、そりゃあそうだろう、Müllerコレクションのカタログだけで30万円はするのだから。近いうちにネットで公開する予定で準備を進めている。Müllerのカタログでは長谷川版カレンダー231点中121点が彼女のコレクションにはない(画像だけBaxleyなどから借りてきている)、今回の彼女の売り立てのカレンダーは130点。カタログなどと比べると、ざっと見て私のところにないカレンダーは100点ほどではないかと推測している。でもそれで完結するわけでもなさそう。
My calendar collection has exceeded 220 items. Since the calendar is out of the book category, the National Diet Library has only 3 points, and the largest number of OUJs has only 89 points. The problem is, for example, there are 13 types in 1911 alone (there may be more, no one knows), and the 1911 calendar alone is indistinguishable. So I asked a friend of a former Epson technician (who can do anything since I had my old flute shot with a non-contact scanner) to archive all the images and create a catalog with thumbnails on the cover. It was. I was pleased to send it to Mr. Abe of Sobunso in Kanda and Alex of the Bakumatsuya who took care of me, that's right, because the catalog of the Müller collection alone costs 300,000 yen. We are preparing to publish it online in the near future. In Müller's catalog, 121 out of 231 Hasegawa calendars are not in her collection (only images are borrowed from Baxley etc.), and her sales calendar this time is 130. Compared to catalogs, I'm guessing that there are about 100 calendars that I don't have. But that doesn't seem to be the end.
個人で各大学や研究所と連携することは困難なので、書誌学的に完成させるため、アカデミズムの横のつながりを期待して、放送大、東洋大、東女大などに手紙またはメールをしたところ、いずれも親切な対応をしていただいた。意図についてはよくわかるものの、担当する研究者がいないとのこと。ボールは投げてあることだし、最近、ぽつぽつとちりめん本に関する論文も出てきているので、ゆっくりと集めながら待つこととしている。やれやれ先は長い。
Since it is difficult for individuals to collaborate with each university and research institute, I sent a letter or e-mail to the Broadcast University of Japan, Toyo University, Tokyo Woman's Christian University, etc. in anticipation of a horizontal connection of academia in order to complete it bibliographically. , All of them kindly responded. Although he understands the intention well, he says that there is no researcher in charge. The ball has been thrown, and recently there have been papers on Crepe paper books, so I'm waiting while slowly collecting them. The destination is long.
2 February 2021, M.Yamamura